Lamberton Racing Pigeons

LADY GODIVA
AU 2008 LAMBERTON 44435
Blue Hen
Gustaaf Cuypers - Antoine Jacops
LADY GODIVA is a very strong and classy-looking blue female. She was an excellent racer in 2008 young birds winning 1st, 2nd, 2 x 3rd prizes in 6 races which led to a 1st Ace Young Bird 2008 Award in the West Tulsa RPC. Her father, STREAKER, is is a full brother to one of Antoine's best racers in the past several years, the NUDIST. He won 1st prize several times in the Antwerp Union Belgium. The father of the NUDIST is the SMALL BLUE ENGELS and the mother is the BLUE DUIVIN. 44435's mother is CHRISTINE, a tremendous half-sister to the YOUNG GUSTAAF, WITTEKOP, and the BLUE GUSTAAF. CHRISTINE's parents are GUSTAAF and BREAK YOUR HEART. GUSTAAF is a tremendous breeding male from the small high-performance loft of Gustaaf Cuypers. GUSTAAF and the other Cuyper's pigeons in the loft are some of the strongest, most buoyant pigeons that we have ever handled. The Cuypers pigeons are simply tremendous racing pigeons! BREAK YOUR HEART is a full sister to the BREAKAWAY, the 4th Ace Young Bird in the Antwerp Union in 2004. Their parents are BELG 02 6115496 and the PICANOL DUIVIN. 44435 is bred from tremendous performance homing pigeons and is bred to be a great racer.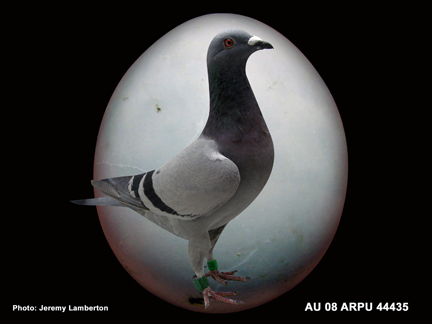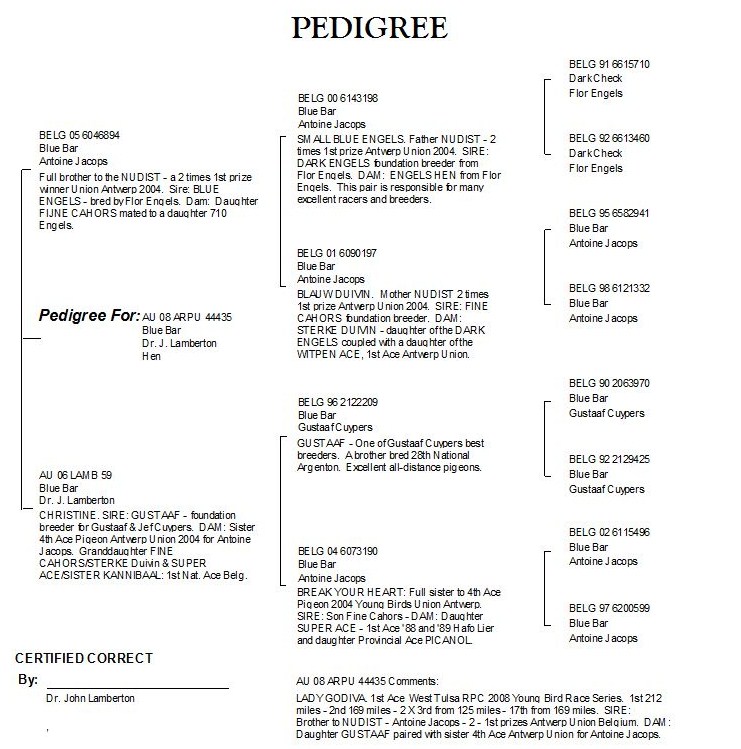 RACE RECORD 2008 YOUNG BIRD RACE SERIES
WinSpeed-7                        WEST TULSA RPC                11/17/08-00:07
                                  One Bird Report                       Page 1
                                 LAMBERTON CUYPERS
44435  AU 08 LAMB BB   female 
-----------------------------------------------------------------------------------
Race: #02 ATOKA B   Date: 09/20/2008   Station: ATOKA OK    7 Lofts / 183 Birds

POS  ARRIVAL   Place / Entry  MILES     TOWIN    YPM      PT
  3  12:24:39     3  /   12   121.839   11.08   1227.805  23
-----------------------------------------------------------------------------------
Race: #04 ANTLERS B   Date: 09/27/2008   Station: ANTLERS OK    8 Lofts / 173 Birds

POS  ARRIVAL   Place / Entry  MILES     TOWIN    YPM      PT
  3  11:27:30     3  /   12   131.409   06.20   1302.985  23
-----------------------------------------------------------------------------------
Race: #06 DURANT B   Date: 10/04/2008   Station: DURANT OK    8 Lofts / 156 Birds

POS  ARRIVAL   Place / Entry  MILES     TOWIN    YPM      PT
 60  11:41:32     4  /   13   148.125   22.41   1361.123   0
-----------------------------------------------------------------------------------
Race: #08 PARIS B   Date: 10/11/2008   Station: PARIS TX    8 Lofts / 158 Birds

POS  ARRIVAL   Place / Entry  MILES     TOWIN    YPM      PT
  2  11:32:17     2  /   12   169.346   00.12   1635.088  24
-----------------------------------------------------------------------------------
Race: #10 MCKINNEY B   Date: 10/18/2008   Station: MCKINNEY TX    8 Lofts / 146 Birds

POS  ARRIVAL   Place / Entry  MILES     TOWIN    YPM      PT
 17  13:39:00     5  /   13   203.554   16.20   1159.404   9
-----------------------------------------------------------------------------------
Race: #12 MT PLEASANT B   Date: 10/25/2008   Station: MT PLEASANT TX    8 Lofts / 126 Birds

POS  ARRIVAL   Place / Entry  MILES     TOWIN    YPM      PT
  1  12:52:04     1  /   10   212.348   00.00   1426.099  25
NUDIST - Multiple 1st prize winner in the Antwerp Union - Brother to 44435's father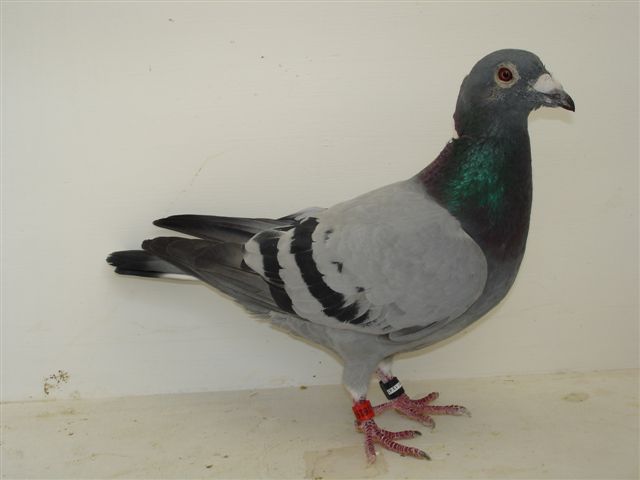 PATERNAL GRANDFATHER - BLAUWE ENGELS - BELG 00 6143198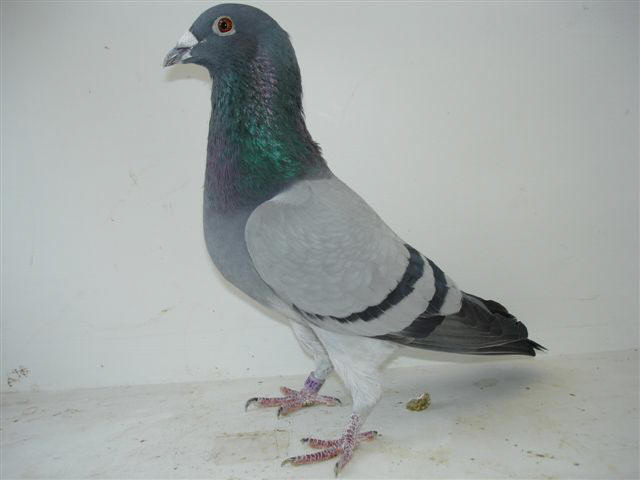 PATERNAL GRANDMOTHER - BLAUW DUIVIN - BELG 01 6090197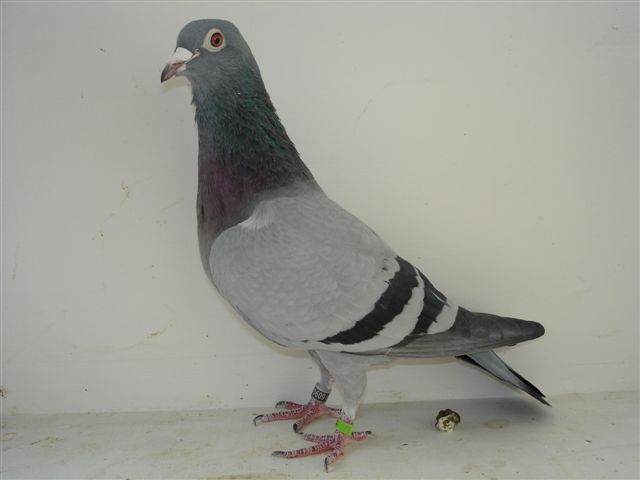 PATERNAL GRANDFATHER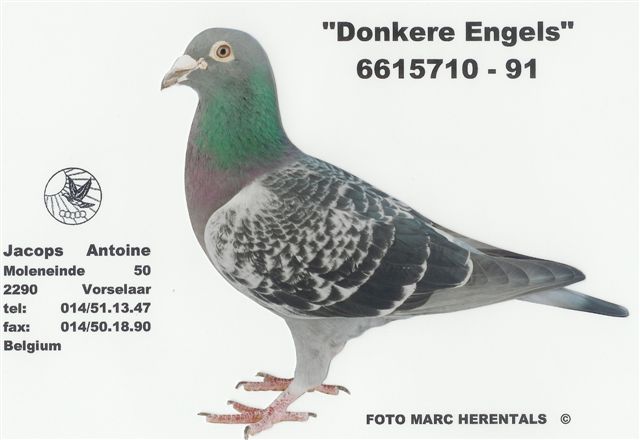 PATERNAL GRANDFATHER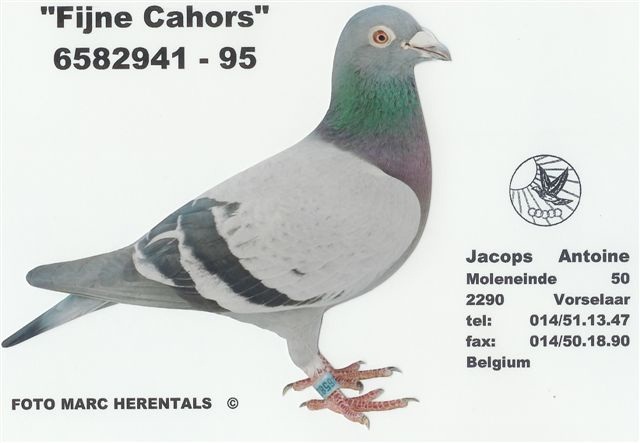 4th Ace Young Bird Antwerp Union - 2004 - BELG - Full brother to 44435's maternal grandmother