Lamberton Racing Pigeons

SOFIE
AU 2011 LAMBERTON 31


Blue Hen


YOUNG GUSTAAF
SOFIE is a marvelous racing pigeon that is a cross between the legendary racing pigeons of Antoine Jacops, Vorselaar Belgium and the super speed pigeons of Gustaaf Cuypers, southern Belgium. SOFIE's father is the YOUNG GUSTAAF bred from imports from Gustaaf Cuypers. SOFIE'S mother is JENNY JEFF bred from the imports of Antoine Jacops. During the 2011 Young Bird Race Series, SOFIE earned over 40 AU points towards her Championship. SOFIE is one of the finest racing pigeons with which we have ever competed and definitely the best young hen we have ever raced. As a yearling, SOFIE was again a super racing machine winning 8th prize Federation from 200 miles against 1187 pigeons in addition to an 8th prize from 406 miles. We retired SOFIE to the breeding loft at the end of her yearling race season with 122.57 AU points, 2.43 points from an AU Championship. She has been an excellent breeder.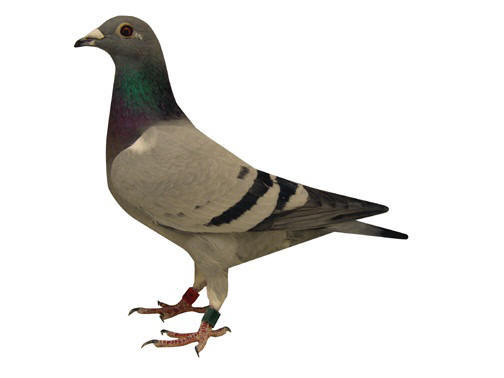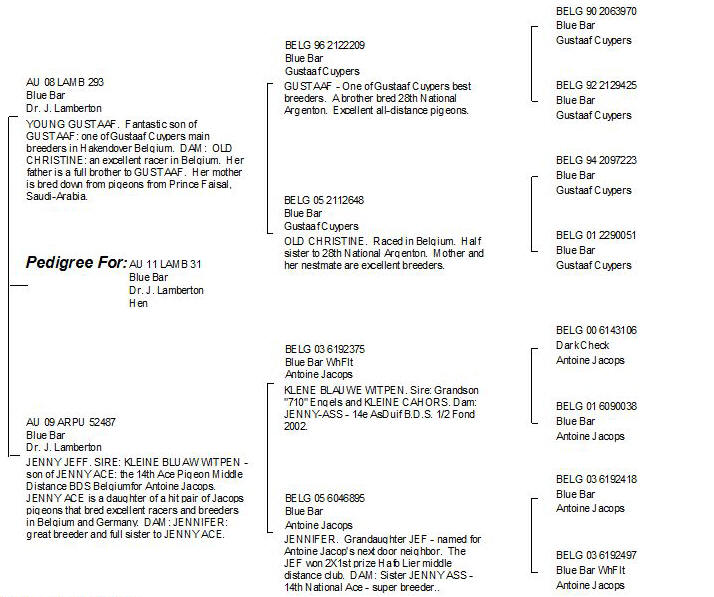 YOUNG BIRD CLUB RACE RECORD
WinSpeed-7                     TULSA OIL CAPITOL RPC            12/05/14-10:13
                                  One Bird Report                       Page 1
                                  Jeff Lamberton
  31   AU 11 LAMB UNKN Hen 
-----------------------------------------------------------------------------------
Race: #03 ANTLERS A   Date: 09/24/2011   Station: ANTLERS OK    18 Lofts / 86 Birds

POS  ARRIVAL   Place / Entry  MILES     TOWIN    YPM      PT
  3  10:32:15     1  /    5   131.703   00.51   1522.474  98
-----------------------------------------------------------------------------------
Race: #05 PARIS A   Date: 10/01/2011   Station: PARIS TX    18 Lofts / 86 Birds

POS  ARRIVAL   Place / Entry  MILES     TOWIN    YPM      PT
 24  11:49:01     3  /    5   170.017   08.45   1306.586  77
-----------------------------------------------------------------------------------
Race: #07 PARIS A   Date: 10/08/2011   Station: PARIS TX    18 Lofts / 88 Birds

POS  ARRIVAL   Place / Entry  MILES     TOWIN    YPM      PT
  6  10:36:40     1  /    5   170.017   01.13   1909.979  95
-----------------------------------------------------------------------------------
Race: #11 MT PLEASANT A   Date: 10/22/2011   Station: MT PLEASANT TX    18 Lofts / 84 Birds

POS  ARRIVAL   Place / Entry  MILES     TOWIN    YPM      PT
  5  11:54:58     2  /    4   210.882   00.40   1579.596  96
-----------------------------------------------------------------------------------
Race: #13 FAIRFIELD A   Date: 10/29/2011   Station: FAIRFIELD TX    18 Lofts / 81 Birds

POS  ARRIVAL   Place / Entry  MILES     TOWIN    YPM      PT
  5  14:11:12     1  /    3   303.282   00.13   1498.529  96
-----------------------------------------------------------------------------------
Race: #15 WACO A   Date: 11/05/2011   Station: WACO TX    15 Lofts / 64 Birds

POS  ARRIVAL   Place / Entry  MILES     TOWIN    YPM      PT
  9  14:06:54     1  /    2   317.742   20.22   1659.919  92
YEARLING CLUB RACE RECORD
WinSpeed-7                     TULSA OIL CAPITOL RPC            12/05/14-10:18
                                  One Bird Report                       Page 1
                                  Jeff Lamberton
  31   AU 11 LAMB UNKN Hen 
-----------------------------------------------------------------------------------
Race: #02 PARIS B   Date: 04/14/2012   Station: PARIS TX    14 Lofts / 277 Birds

POS  ARRIVAL   Place / Entry  MILES     TOWIN    YPM      PT
 42  11:21:21    12  /   23   170.015   12.50   1746.291  59
-----------------------------------------------------------------------------------
Race: #04 MT PLEASANT B   Date: 04/21/2012   Station: MT PLEASANT TX    16 Lofts / 373 Birds

POS  ARRIVAL   Place / Entry  MILES     TOWIN    YPM      PT
  5  12:38:26     1  /   13   210.262   02.17   1329.085  96
-----------------------------------------------------------------------------------
Race: #08 CONROE B   Date: 05/05/2012   Station: CONROE TX    15 Lofts / 301 Birds

POS  ARRIVAL   Place / Entry  MILES     TOWIN    YPM      PT
175 -07:35:49     7  /   15   394.322   06:39    830.333   0
-----------------------------------------------------------------------------------
Race: #12 WACO B   Date: 05/26/2012   Station: WACO TX    12 Lofts / 199 Birds

POS  ARRIVAL   Place / Entry  MILES     TOWIN    YPM      PT
 87  13:45:08     4  /   10   317.722   01:12   1490.646  14
-----------------------------------------------------------------------------------
Race: #14 AUSTIN B   Date: 06/02/2012   Station: AUSTIN TX    11 Lofts / 184 Birds

POS  ARRIVAL   Place / Entry  MILES     TOWIN    YPM      PT
  8  15:35:46     3  /   11   406.443   18.51   1472.600  93
-----------------------------------------------------------------------------------
Race: #03 ANTLERS A   Date: 09/24/2011   Station: ANTLERS OK    19 Lofts / 91 Birds

POS  ARRIVAL   Place / Entry  MILES     TOWIN    YPM      PT
  3  10:32:15     1  /    5   131.703   00.51   1522.474  98
-----------------------------------------------------------------------------------
Race: #05 PARIS A   Date: 10/01/2011   Station: PARIS TX    19 Lofts / 91 Birds

POS  ARRIVAL   Place / Entry  MILES     TOWIN    YPM      PT
 24  11:49:01     3  /    5   170.015   08.44   1306.586  77
-----------------------------------------------------------------------------------
Race: #07 PARIS A   Date: 10/08/2011   Station: PARIS TX    19 Lofts / 92 Birds

POS  ARRIVAL   Place / Entry  MILES     TOWIN    YPM      PT
  6  10:36:40     1  /    5   170.015   01.13   1909.979  95
-----------------------------------------------------------------------------------
Race: #11 MT PLEASANT A   Date: 10/22/2011   Station: MT PLEASANT TX    18 Lofts / 84 Birds

POS  ARRIVAL   Place / Entry  MILES     TOWIN    YPM      PT
  5  11:54:58     2  /    4   210.262   00.40   1579.596  96
-----------------------------------------------------------------------------------
Race: #13 FAIRFIELD A   Date: 10/29/2011   Station: FAIRFIELD TX    19 Lofts / 86 Birds

POS  ARRIVAL   Place / Entry  MILES     TOWIN    YPM      PT
  5  14:11:12     1  /    3   303.591   00.13   1498.529  96
-----------------------------------------------------------------------------------
Race: #15 WACO A   Date: 11/05/2011   Station: WACO TX    15 Lofts / 64 Birds

POS  ARRIVAL   Place / Entry  MILES     TOWIN    YPM      PT
  9  14:06:54     1  /    2   317.722   20.22   1659.919  92
COMBINE YOUNG BIRD RACE RECORD
WinSpeed-7                        75 Combine                  01/12/12-18:41
                                  One Bird Report                       Page 1
                                  Jeff Lamberton
  31   AU 11 LAMB UNKN Hen 
-----------------------------------------------------------------------------------
Race: #03 ANTLERS A   Date: 09/24/2011   Station: ANTLERS OK    32 Lofts / 156 Birds

POS  ARRIVAL   Place / Entry  MILES     TOWIN    YPM      PT
  3  10:32:15     1  /    5   131.703   00.51   1522.474  98
-----------------------------------------------------------------------------------
Race: #05 PARIS A   Date: 10/01/2011   Station: PARIS TX    32 Lofts / 154 Birds

POS  ARRIVAL   Place / Entry  MILES     TOWIN    YPM      PT
 36  11:49:01     3  /    5   170.017   10.04   1306.586  65
-----------------------------------------------------------------------------------
Race: #07 PARIS A   Date: 10/08/2011   Station: PARIS TX    32 Lofts / 152 Birds

POS  ARRIVAL   Place / Entry  MILES     TOWIN    YPM      PT
  6  10:36:40     1  /    5   170.017   01.13   1909.979  95
-----------------------------------------------------------------------------------
Race: #11 MT PLEASANT A   Date: 10/22/2011   Station: MT PLEASANT TX    32 Lofts / 144 Birds

POS  ARRIVAL   Place / Entry  MILES     TOWIN    YPM      PT
  7  11:54:58     2  /    4   210.882   00.57   1579.596  94
-----------------------------------------------------------------------------------
Race: #13 FAIRFIELD A   Date: 10/29/2011   Station: FAIRFIELD TX    32 Lofts / 141 Birds

POS  ARRIVAL   Place / Entry  MILES     TOWIN    YPM      PT
  6  14:11:12     1  /    3   303.282   00.59   1498.529  95
-----------------------------------------------------------------------------------
Race: #15 WACO A   Date: 11/05/2011   Station: WACO TX    27 Lofts / 111 Birds

POS  ARRIVAL   Place / Entry  MILES     TOWIN    YPM      PT
  9  14:06:54     1  /    2   317.742   20.22   1659.919  92
AU Champion - 125 points AU Elite Champion - 150 points

Record of Diploma Performance

Calculation of Points

Date

Position

Distance in Miles

Birds

Speed

Lofts

Position

20 or less

Distance

1%

Birds

1%

Total
Summary
9.24.2011
3
131
219
18
1.31
2.19
21.5
10.8.2011
6
170
152
15
1.7
1.52
18.22
10.22.2011
7
210
144
14
2.1
1.44
17.54
10.29.2011
6
303
141
15
3.03
1.41
19.44
4.21.2012
8
210
1187
13
2.1
11.87
26.97
6.2.2012
8
406
184
13

4.06
1.84
18.90
122.57
AU 2011 LAMBERTON 31 - Blue Hen