Lamberton Racing Pigeons

DIAMOND JACK
AU 2004 LAMBERTON 64
Blue Male
AU ELITE CHAMPION #113
4th National Ace - ARPU 2006 OB Race Series
DIAMOND JACK is AU Elite Champion #113 and the 4th National Ace pigeon ARPU in the 2006 Old Bird Race Series. He was an excellent racer and was sold to a fancier in Japan. DIAMOND JACK is a son of the fabulous foundation Antoine Jacops breeder, DIAMOND RIO whose sire is the WHITE DIAMOND - who is a son of the long distance 1st Ace in the Antwerp Union - the DIAMOND ACE: who is a son of the KLEINE CAHORS: who is a son of the CAHORS: who is a son of the BROKEN LEG: who is a son of Antoine Jacops foundation male, the WITTE. DIAMOND JACK is bred down from six generations of champions. DIAMOND JACK's mother is FLICKER, a daughter of Flor Vervoort's PHANTOM coupled with JASMINE, a female bred down from Gaby Vandenabeele's DON JUAN and the GOLDEN WITTEN. DIAMOND JACK's nest mate, AU 05 LAMBERTON 65, DIAMOND JACKIE, is the mother, grandmother, and great grandmother to many 1st prize winners.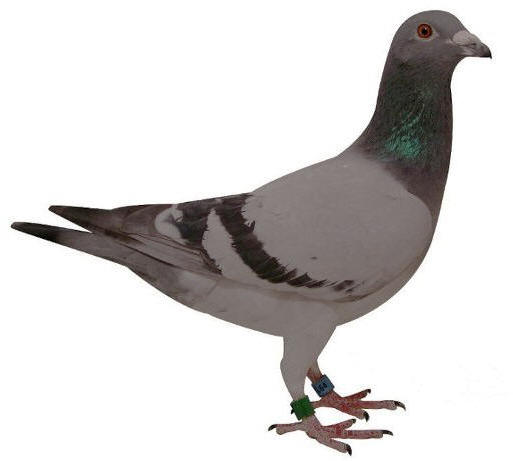 PEDIGREE

RACE RECORD
YOUNG BIRD RACE RECORD - YB 2005 - AU 05 LAMB 64 BB male
WinSpeed-7                        WEST TULSA RPC                03/06/06-23:23
                                  One Bird Report                       Page 1
                                  LAMBERTON CUYPERS
  64   AU 05 LAMB BB   male
-----------------------------------------------------------------------------------
Race: #02 ATOKA B   Date: 09/10/2005   Station: ATOKA OK    13 Lofts / 357 Birds

POS  ARRIVAL   Place / Entry  MILES     TOWIN    YPM      PT
 26  10:19:24     2  /   14   119.482   09.53   1508.530   0
-----------------------------------------------------------------------------------
Race: #04 ANTLERS B   Date: 09/17/2005   Station: ANTLERS    13 Lofts / 384 Birds

POS  ARRIVAL   Place / Entry  MILES     TOWIN    YPM      PT
  6  10:57:01     1  /   15   131.409   10.13   1573.154  20
-----------------------------------------------------------------------------------
Race: #06 DURANT B   Date: 09/24/2005   Station: DURANT OK    14 Lofts / 249 Birds

POS  ARRIVAL   Place / Entry  MILES     TOWIN    YPM      PT
 11  12:54:26     4  /    9   151.387   08.35   1007.596  15
-----------------------------------------------------------------------------------
Race: #08 PARIS A   Date: 10/02/2005   Station: PARIS TX    12 Lofts / 59 Birds

POS  ARRIVAL   Place / Entry  MILES     TOWIN    YPM      PT
  1  10:50:38     1  /    5   169.346   00.00   1746.763  25
-----------------------------------------------------------------------------------
Race: NORTH C   Date: 10/29/2005   Station: NORTH    6 Lofts / 91 Birds

POS  ARRIVAL   Place / Entry  MILES     TOWIN    YPM      PT
  5  09:45:24     1  /    6    77.372   01.03   1005.717  21
-----------------------------------------------------------------------------------
Race: #19 WACO A   Date: 11/05/2005   Station: WACO TX    12 Lofts / 55 Birds

POS  ARRIVAL   Place / Entry  MILES     TOWIN    YPM      PT
 11  11:55:41     2  /    5   317.421   07.34   2102.735  15
YEARLING RACE RECORD - OB 2006 - AU 05 LAMB 64 BB male
-----------------------------------------------------------------------------------
Race: D S 1   Date: 03/11/2006   Station: WILSON ROAD    3 Lofts / 15 Birds

POS  ARRIVAL   Place / Entry  MILES     TOWIN    YPM      PT
  7  11:16:59     4  /    5    43.595   01.42   1633.090  19
-----------------------------------------------------------------------------------
Race: F W 1   Date: 03/17/2006   Station: PERRY ROAD    6 Lofts / 30 Birds

POS  ARRIVAL   Place / Entry  MILES     TOWIN    YPM      PT
 18  13:40:47     4  /    5    72.392   01:42    604.458   8
-----------------------------------------------------------------------------------
Race: E N 1B   Date: 03/25/2006   Station: INDEPENDENCE    7 Lofts / 157 Birds

POS  ARRIVAL   Place / Entry  MILES     TOWIN    YPM      PT
  2  10:02:24     2  /   17    77.484   02.22   1475.880  24
-----------------------------------------------------------------------------------
Race: MACALESTER B   Date: 04/01/2006   Station: MACALESTER    8 Lofts / 100 Birds

POS  ARRIVAL   Place / Entry  MILES     TOWIN    YPM      PT
 17  10:00:56     4  /   10    82.296   21.09   1305.821   9
-----------------------------------------------------------------------------------
Race: #01 PARIS A   Date: 04/08/2006   Station: PARIS TX    9 Lofts / 43 Birds

POS  ARRIVAL   Place / Entry  MILES     TOWIN    YPM      PT
  1  12:52:46     1  /    5   169.346   00.00   1017.997  25
-----------------------------------------------------------------------------------
Race: #05 FAIRFIELD A   Date: 04/21/2006   Station: FAIRFIELD TX    9 Lofts / 41 Birds

POS  ARRIVAL   Place / Entry  MILES     TOWIN    YPM      PT
  7  13:10:13     2  /    5   303.382   19.25   1569.435  19
-----------------------------------------------------------------------------------
Race: #07 WACO A   Date: 04/30/2006   Station: WACO TX    9 Lofts / 36 Birds

POS  ARRIVAL   Place / Entry  MILES     TOWIN    YPM      PT
  1  13:48:14     1  /    5   317.421   00.00   1477.018  25
-----------------------------------------------------------------------------------
Race: #14 LAKE JACKSON B   Date: 05/20/2006   Station: LAKE JACKSON TX    8 Lofts / 182 Birds

POS  ARRIVAL   Place / Entry  MILES     TOWIN    YPM      PT
  4  16:34:51     4  /   18   488.809   08.12   1579.006  22
-----------------------------------------------------------------------------------
Race: #17 SAN ANTONIO A   Date: 06/10/2006   Station: SAN ANTONIO TX    9 Lofts / 36 Birds

POS  ARRIVAL   Place / Entry  MILES     TOWIN    YPM      PT
  1  15:55:45     1  /    5   475.282   00.00   1561.335  25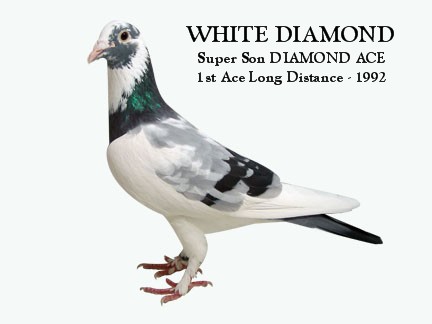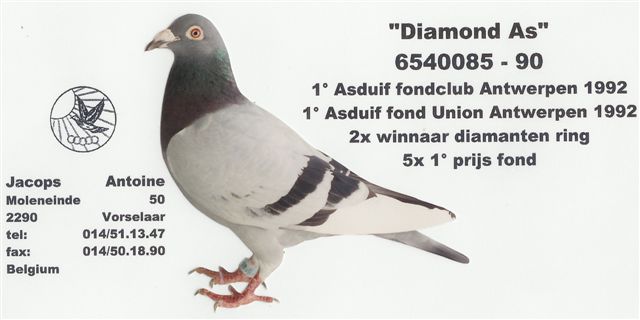 KLEINE CAHORS, 1st Olympiade Germany 1987 - Schoon Blauw, Daughter of the PLAYBOY (Meuleman)