Lamberton Racing Pigeons

BLAZEN HOT
AU 2008 BLUE SKIES 103
Blue Female



BLAZEN
BLAZIN HOT is one of the finest females we have ever bred. Her father is BLAZEN, a tremendous son of BLIKSEM, a tremendous racer and breeder for Gaby Vandenabeele. BLIKSEM is a son of the long distance Ace, the KOLONEL, a son of the WITTENBUIK who is a son of the legendary KLEINEN. BLAZEN'S mother is the CRACK DUIVIN that was also a fantastic racer and granddaughter of the the super racer, DE LIMOGES, 1st National Limoges. BLAZEN HOT's mother is the famous NATIONAALTJE, the nest sister to Mike Ganus's GOLD DUST. The NATIONAALTJE has bred excellent racers in the Netherlands and the US. She is a half-sister to the CRACK DUIVIN and is also a granddaughter of DE LIMOGES and the WITTENBUIK. BLAZEN HOT is tightly bred to DE LIMOGES & the WITTENBUIK. Her race record is excellent. Racing as a young female, she consistently returned home early week after week in all 8 races!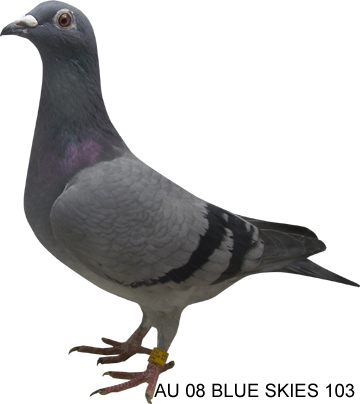 PEDIGREE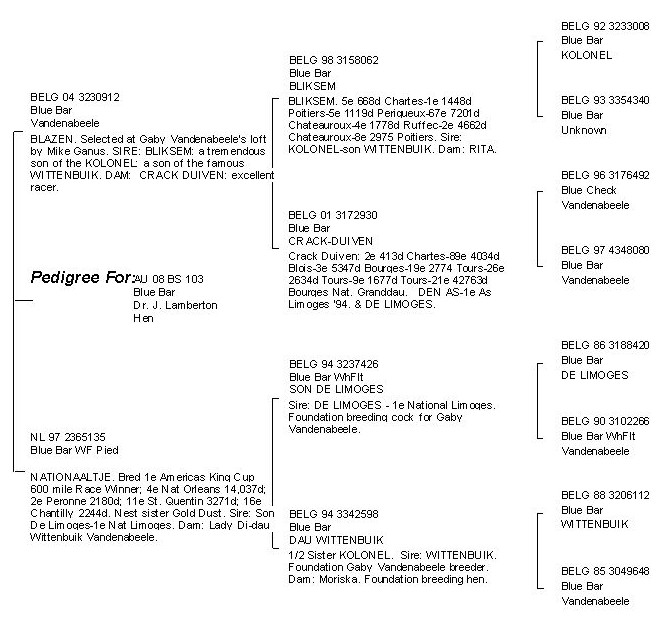 2008 YOUNG BIRD RACE RECORD
WinSpeed-7                        WEST TULSA RPC                02/26/09-08:55
                                  One Bird Report                       Page 1
                                 LAMBERTON CUYPERS
 103   AU 08 BS BB   female 
-----------------------------------------------------------------------------------
Race: #02 ATOKA B   Date: 09/20/2008   Station: ATOKA OK    7 Lofts / 183 Birds

POS  ARRIVAL   Place / Entry  MILES     TOWIN    YPM      PT
 14  12:37:15     8  /   12   121.839   23.43   1145.186  12
-----------------------------------------------------------------------------------
Race: #04 ANTLERS B   Date: 09/27/2008   Station: ANTLERS OK    8 Lofts / 173 Birds

POS  ARRIVAL   Place / Entry  MILES     TOWIN    YPM      PT
 40  11:48:28    10  /   12   131.409   27.18   1165.333   0
-----------------------------------------------------------------------------------
Race: #06 DURANT B   Date: 10/04/2008   Station: DURANT OK    8 Lofts / 156 Birds

POS  ARRIVAL   Place / Entry  MILES     TOWIN    YPM      PT
 76  11:52:16     6  /   13   148.125   33.25   1288.894   0
-----------------------------------------------------------------------------------
Race: #08 PARIS B   Date: 10/11/2008   Station: PARIS TX    8 Lofts / 158 Birds

POS  ARRIVAL   Place / Entry  MILES     TOWIN    YPM      PT
 22  11:42:12     6  /   12   169.346   10.07   1550.725   4
-----------------------------------------------------------------------------------
Race: #10 MCKINNEY B   Date: 10/18/2008   Station: MCKINNEY TX    8 Lofts / 146 Birds

POS  ARRIVAL   Place / Entry  MILES     TOWIN    YPM      PT
 25  13:43:03     8  /   13   203.554   20.23   1144.405   1
-----------------------------------------------------------------------------------
Race: #12 MT PLEASANT B   Date: 10/25/2008   Station: MT PLEASANT TX    8 Lofts / 126 Birds

POS  ARRIVAL   Place / Entry  MILES     TOWIN    YPM      PT
  7  12:55:25     4  /   10   212.348   03.21   1408.099  19
-----------------------------------------------------------------------------------
Race: #14 FAIRFIELD B   Date: 11/01/2008   Station: FAIRFIELD TX    8 Lofts / 122 Birds

POS  ARRIVAL   Place / Entry  MILES     TOWIN    YPM      PT
 22  15:20:49     3  /   10   303.936   18.34   1351.453   4
-----------------------------------------------------------------------------------
Race: #16 WACO B   Date: 11/08/2008   Station: WACO TX    8 Lofts / 121 Birds

POS  ARRIVAL   Place / Entry  MILES     TOWIN    YPM      PT
 34  16:40:58     4  /    8   317.589   55.49   1072.923   0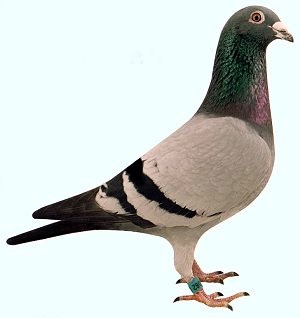 THE NATIONAALTJE - Nest sister to GOLD DUST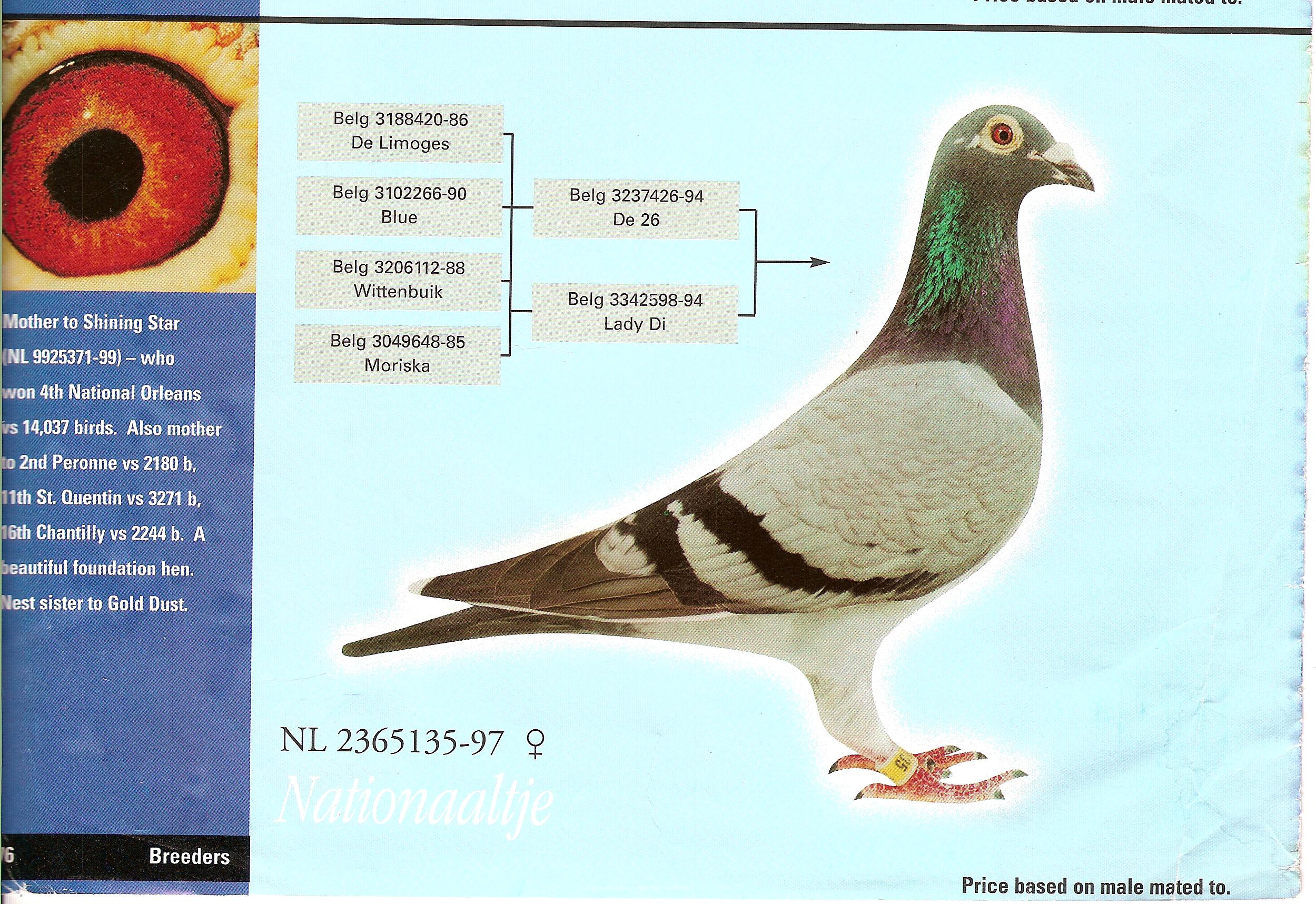 GOLD DUST - Nest sister to the NATIONAALTJE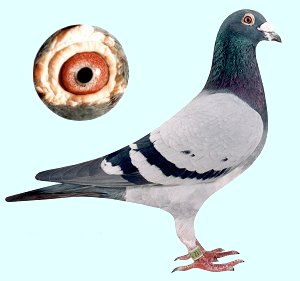 The ''Wittenbuik'' BELG 88 3206112