Lamberton Racing Pigeons

SEND CASH (CASH)
AU 09 ARPU 52465
Blue White Flight Male
Antoine Jacops Breeding
CASH is a fabulous blue white flight male whose sire is the FAVORITE BLUE, a grandson son of the YOUNG SUPER ACE coupled with a full sister to the KANIBAAL, the 1st National Middle Distance Ace Pigeon in Belgium in 1996. The YOUNG SUPER ACE is a son of the SUPER ACE. CASH's mother is a daughter of the YOUNG SUPER ACE bred to a full sister to the KANNIBAAL. CASH's pedigree is a line-bred nephew-aunt pairing. CASH is beautiful, strong, smart, and extremely steady in the clock. Week after week during the 2009 young bird race series, CASH races in the top 10 to 20% of the race sheet. In the first Old Bird Race from Paris, Texas on 4.3.2010, CASH scored 1st Club, 1st Combine. He was also our first bird home (5th club) on a hot and fast 500 mile race on 5.22.2010. He is retired to the breeding loft.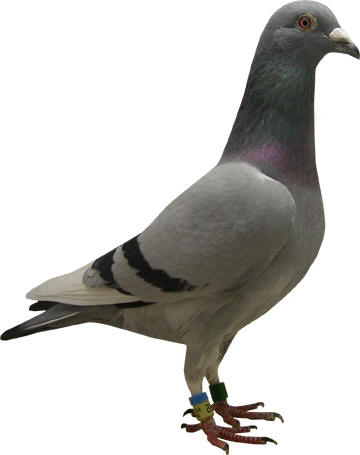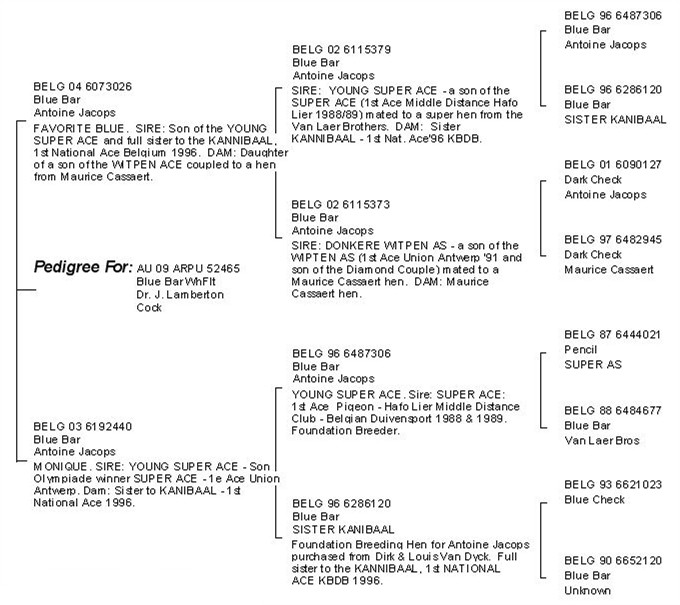 AU CHAMPIONSHIP POINT TOTAL
Record of Diploma Performance
Calculation of Points
Position
Distance
Date
Speed
Birds
Lofts
Position
Distance (1%)
Birds (1%)
Points Per Race
Total Points
1
169.727
4.3.2010
448
24
20
1.69
4.48
26.17
26.17
5
502.749
5.22.2010
240
23
16
5.02
2.40
23.42
49.60