The Lamberton Family loves Homing Pigeons! We enjoy the Sport of Racing Pigeons! One of our passions in the Sport of Racing Pigeons is to educate, motivate and inspire racing pigeon fanciers all over the world about the sport of racing pigeons through our General Information and Directories, cutting-edge Blogs, targeted Vlogs (Video Blogs), new Podcasts and the EXTREME SPEED Loft Management DVD Series. Our unique educational website reveals the science, the secrets and the myths of playing the racing pigeon game at the top of the race sheet according to the legendary racing pigeon fanciers who have mentored us in the U.S., Belgium, and the Netherlands. We also include our own personal theories and methods about the Sport of Racing Homing Pigeons that we have developed over many years of successful science-based trial and error.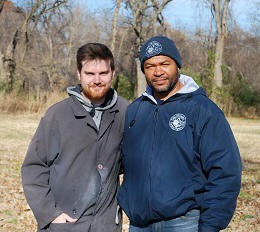 The information on this website has been thoughtfully designed especially FOR YOU regardless of where you live globally. We believe that the thoughtful and educated management of Homing Pigeons is similar where ever you may live globally and whatever your education, motivation, politics, religion, or socio-economic status. Through the information on this website, we sincerely hope that you will discover, or re-discover, a new respect and appreciation for your Homing Pigeons that allows your pigeons to soar to new heights in whatever type of competition you may play including your own personal enjoyment of your Homing Pigeons!
We believe that the Sport of Racing Pigeons has more to do with the education of racing pigeon fanciers than it does the motivation or quality of homing pigeons. Please browse our website and determine if you agree. Pictured are Jeff Lamberton and Steve King, Fast Lane Loft, Tulsa, Oklahoma, an excellent racing pigeon fancier and a very close friend of the Lamberton Family.
FOR YOU
BREEDERS
CHAMPIONS
RACE RESULTS
FOR SALE

ABOUT

BLOG
VLOGS (Video Blogs)
PODCASTS

CONTACT

2009 NESTMATES & AU ELITE CHAMPIONS

We purchased, SUPERBOY, the father of the WITTESTAART and COOL HAND LUKE (pictured below) during a holiday to the loft of Antoine Jacops Vorselaar Belgium. We also purchased SUPERBOY's full brother, SUPERMAN, and two full sisters. All four of these siblings have produced race winners and excellent breeders! These siblings are bred from the YOUNG SUPER ACE, a prepotent son of the 2-time 1st Provincial Ace Pigeon in the Antwerp Union, the SUPER ACE, and the KANNIBAALTJE, a full sister to the KANNIBAAL, the 1st National Ace Pigeon Belgium in 1996. The mother of the WITTESTAART and COOL HAND LUKE is, COOL LADY, a granddaughter of the KANNIBAAL that we purchased from Mike Ganus, Granger Indiana. The WITTESTAART and COOL HAND LUKE are currently two of our very best breeders. For example, the WITTESTAART is the father of AXELLE, the 3rd Average Speed Winner in the 2015 San Diego Classic Young Bird Futurity winning over $26,000 in prizes while COOL HAND LUKE is the father of COOL BREEZE, an AU ELITE CHAMPION (pending), retired to the breeding loft after the 2016 Old Bird Race Series.


WITTESTAART
AU 2009 LAMBERTON 52467
AU ELITE CHAMPION
Line-bred Antoine Jacops, Vorselaar Belgium & 1st National Ace KANNIBAAL




COOL HAND LUKE
AU 2009 LAMBERTON 52466
AU ELITE CHAMPION
Line-bred Antoine Jacops, Vorselaar Belgium & 1st National Ace KANNIBAAL
1ST NATIONAL ACE PIGEON - ARPU MARATHON DISTANCE
Father



AU 2015 LAMBERTON 144 Blue Hen
Equal 1st and 3rd 2015 San Diego Classic Races
3rd Average Speed of 3 Races winning $26,333
Antoine Jacops - Gustaaf Cuypers Breeding

THE CUYPERS TRIPLETS
When we built our racing loft in southern Belgium in 2005, we quickly became familiar with the beautiful strong speed pigeons of Gustaaf Cuypers. Cuypers raced his pigeons in the southern province of Brabant Belgium where many of the fastest pigeons in the world are bred and raced. We imported two pairs of Cuypers' original speed pigeons. One of these pairs was an uncle-niece couple that bred nothing but super breeding and racing pigeons. We have focused our breeding program on three sons and one daughter of this super couple and one half-sister; breeding them with the very best pigeons that we imported from Antoine Jacops, Vorselaar Belgium. Jacops sells the exact same pigeons that he races. More specifically, he races the first and second rounds from his breeders and sells the best pigeons from the third and fourth rounds. We have purchased over fifty pairs of Jacops pigeons since 1986 from his very best breeders including several of his breeders directly from his breeding loft. As fate would have it, the Jacops-Cuypers pigeons have been solid gold for Lamberton Racing Pigeons! Pictured below are the triplets: the YOUNG GUSTAAF, the WITTEKOP, and the BLUE GUSTAAF - three full brothers that are golden breeders. The YOUNG CHRISTINE, the nest sister to the BLUE GUSTAAF accidentally died; but not before she bred several foundation breeders which are breeding excellent racing and breeding pigeons

each year

for our loft. The half-sister to the triplets is CAMILLE that is a cross between the original Cuyper import male, GUSTAAF, coupled with a full sister to the 4th Ace pigeon of Antoine Jacops that was purchased in Jacops final dispersal sale by Mike Ganus and imported into the USA under the name of BREAKAWAY. CAMILLE is also a foundation breeder.

More specifically, the WITTEKOP is the maternal grandfather of AXELLE, the 3rd Average Speed Winner in the 2015 San Diego Classic Young Bird Futurity winning over $26,000 in prizes. The WITTEKOP also bred the OKLAHOMA DIAMOND that was the 1st Ace Young Bird in the State of Oklahoma and the 14th National Ace Young Bird in the 2015 Young Bird Race Series. The BLUE GUSTAAF bred DIAMOND JULIE, an AU Registered Champion winning four 1st prizes. We coupled DIAMOND JULIE with the WITTESTAART and their first youngster won a very hot and humid 150 mile race in the 2016 Young Bird Race Series. Besides the super pigeons of Antoine Jacops, the Cuypers pigeons are easily the fastest and strongest pigeons that we have ever bred and raced. The YOUNG GUSTAAF coupled with an excellent Antoine Jacops hen bred SOPHIE, one of our best racing hens in 2011 and 2012 and whose AU Championship is pending.


YOUNG GUSTAAF
AU 2008 LAMBERTON 293
Blue Male


WITTEKOP (White Head)
AU 2009 LAMBERTON 52409
Blue Pied Male

BLUE GUSTAAF
AU 2007 LAMBERTON 564
Blue Male