ENVIRONMENTAL SOCIOLOGY SYLLABUS - Summer 2014 Semester
OKLAHOMA STATE UNIVERSITY - TULSA
Environmental Sociology - 4433
Syllabus Agreement
This syllabus is an agreement between instructor and student. As a participant in this course, you must abide by the rules and requirements as outlined in this document. It is your responsibility to read this syllabus carefully and address any questions or concerns as soon as they arise. The instructor reserves the right to amend this syllabus (including the class schedule) at any point this semester. In the event of such a change, all students will be notified via in-class announcements and TCC e-mail messages.
SUMMER 2014 ACADEMIC SEMESTER
Professor: Dr. John Lamberton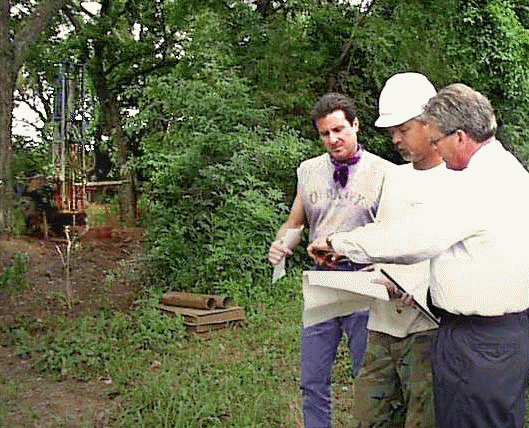 Dr. Lamberton with a student drilling a test well in Payne County.
Resume:
http://www.drjohnlamberton.com/resume.htm
CLASSROOM: 242 North Hall
TIME: Monday through Thursday 4:30 pm Ė 7:10 pm Ė July 7 Ė August 1, 2014
Personal Email Address:
drj@drjohnlamberton.com
Office Hours: By appointment.
REQUIRED TEXTBOOK - None
Course Description
Environmental Sociology orients students to the general academic field of the physical and social environment of people on a micro and macro scale. That is, we will study environmental impacts from small groups to global issues.. The course requires students to analyze and apply study techniques and behavior patterns essential to college success, apply critical and creative thinking skills to solve academic assignments, and construct goals and time plans to balance work, school, and family.
GENERAL EDUCATION GOAL STATEMENT
General Education Goals are designed to ensure that graduates of Oklahoma State University have the skills, knowledge, and attitudes to carry them successfully through their work and their personal lives. General Education Goals to be measured in this course include Critical Thinking; Effective Communication; Engaged Learning; and Technological Proficiency.
GRADE ASSESSMENT:
Each student will prepare a 15 minute (approximately) lecture or presentation about an environmental issue: either psychological, social, physical (natural) or all of the above. The lecture should contain a visual aid such as Power Point or Prezi (
www.prezi.com
) and may contain quality internet information. The subject matter of the presentation should be written and typed into a 3 to 5 page paper, double-spaced in standard college format standards, to be handed in after the presentation to the professor.

The presentation will be graded upon creativity, technical proficiency, and general interest to the class. A quality presentation will result in a higher grade than a presentation that is not well planned and executed and a paper that does not represent the presentation in a well written well-reasoned manner.

Lastly, class attendance is included in the final grade. Since the course only covers 4 weeks, attendance at every class period is extremely important. If you need to be absent, please let the professor know before the absence either in class prior to the absence or in an email.

TEACHING METHODS:

Class sessions may include lectures, group discussion, small group work, and formal workshops (guest speakers).

PLAGIARISM: Plagiarism is defined as "the deliberate or reckless representation of anotherís words, thoughts, or ideas as oneís own without attribution in connection with submission of academic work, whether graded or otherwise."

Plagiarism is academic dishonesty. If you use someone elseís written work or intellectual property, give them credit for their work by citing their name.

LETTER GRADES:

A: Earned by work whose excellent quality indicates a full mastery of the subject and course assignments are of extraordinary distinction.

B: Earned by work that indicates a good comprehension of the course material, a good command of the skills needed to work with the course material, and the studentís full engagement with the course requirements and activities.

C: Earned by work that indicates an adequate and satisfactory, comprehension of the course material and the skills needed to work with the course material and indicates the student has met basic requirements for completing assigned work and participating in class activities.

D: Earned by work that is unsatisfactory but that indicates some minimal command of the course materials and some minimal participation in class activities that is worthy of course credit.

F: Earned by work which is unsatisfactory and unworthy of course credit.

STUDENT RESPONSIBILITY:

Your professor welcomes student input. It is also advised that should an unforeseeable problem (that could interfere with class performance) occur; notify the professor so that alternate arrangements may be made.

CELL PHONES/TEXTING

: DONíT DO IT - If a student has an emergency he/she must contact the professor before class begins in order to receive instruction on how to handle the situation. Be a responsible and respectful student in this course. 

WITHDRAWAL:

If you determine that you will not be completing the course, it is your responsibility to officially withdraw from the course. After the withdrawal deadline, you will receive the grade earned based on your work for the semester. Failure to follow this procedure may result in the student receiving a regular grade of "F" at the end of the semester. Students begin the process of withdrawal with a discussion with the faculty member.
SUCCESS IN THIS CLASS:
It is the instructorís opinion based upon years of teaching experience that your level or degree of achievement in this class, in college and in life is directly correlated with your attitude and perspective. Whether it is simply your score or grade in this class or whether you actually want to learn about the field of Environmental Sociology that will make a positive difference now and in later life; develop a positive passion for your daily actions every day you are in class and in college. Your educational experience up until now may have been an experience in which you were "pushed" by your parents, your teachers, or other significant people in your life in order to be successful. However as an adult in college, the quality and success of your educational experience is now up to you and your personal choices. College is like an academic buffeteria in which you have the option of taking part of an exciting and diverse course curriculum or choosing to participate very little or none at all. Itís all up to you.